//

Circle the Med 2022

Wed 23 Nov - Sun 27 Nov 2022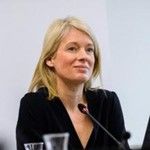 Berangere Abba
Minister of State for Biodiversity, France
A graduate of the University of Provence in Cultural Project Management and Cultural Mediation of Art, Bérangère Abba held various positions in the cultural and artistic sector.
In 2017, she was elected Member of Parliament (constituency: Haute-Marne). She was a member of the Sustainable Development and Land Use Planning Committee, and was elected chair of the study group «National Parks, Regional Natural Parks and Protected Areas» and member of the National Council for the Ecological Transition.
In July 2020, she was appointed in the French government as Secretary of State to the Minister for the Ecological Transition, in charge of Biodiversity. She implements policies related to protected areas, wildlife, hunting and water management. Since October 2020, she has been serving as Vice-President of the United Nations Environment Assembly (UNEA).