//

Circle the Med 2022

Wed 23 Nov - Sun 27 Nov 2022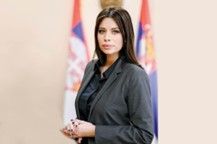 Irena Vujovic
Minister for Environment, Serbia
She was born in 1983 in Belgrade. She has a master's degree in economics.
She has been a member of the Serbian Progressive Party since 2008. She is a member of the Presidency and President of the Supervisory Board of the Serbian Progressive Party.
During her political career, she was elected a Member of Parliament in the Assembly of the Republic of Serbia for two terms (2012 and 2014).
During her tenure as a Member of Parliament, she was a member of the Committee on Administrative Budgetary and Mandate Immunity Issues, the Committee on Economy, Regional Development, Trade, Tourism and Energy, the Chair of the Committee on Foreign Affairs (in her second term) and the Head of the permanent delegation of the Parliamentary Assembly of the Black Sea Economic Cooperation and President of the Friendship Group with Azerbaijan.
From 2014 to 2016 she was Deputy Mayor of Belgrade for the area of social activities.
She was elected President of the City Municipality of Savski Venac in 2016. During her tenure as head of the central Belgrade municipality, she achieved notable results.
She has been President of the Council for Gender Equality of the City of Belgrade since its establishment in 2015.
She speaks English and Russian.