//

Circle the Med 2022

Wed 23 Nov - Sun 27 Nov 2022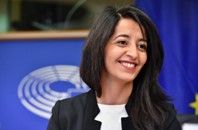 Karima Delli
Member of the European Parliament, Chair of the Committee on Transport and Tourism
MEP, Chair of Transport and Tourism Committee, European Parliament
Mrs Delli was elected to the European Parliament in 2009 and again in 2014. In her first term, she served on the Committee on Employment and Social Affairs and moving on to the Committee on Transport and Tourism after the 2014 elections.

Mrs Delli has always expressed her support for the development of a more sustainable urban mobility model, especially reflected in her own-initiative report on the topic. In her report, she insisted on the importance to redirect urban mobility towards more sustainable modes of transport, with the goal of facing up to the challenges of our century: protecting the climate, public health and promoting the accessibility of mobility.

Convinced that a priority must be given to plans for sustainable urban mobility and clean transport, while actively working on modal shift and inter-modality, she supported and mentioned in her report the UITP objective to double the modal share of public transport by 2025.

Karima Delli is also very active in the Committee of Inquiry into Emission Measurements in the Automotive Sector, where she has been appointed Vice-Chair.