//

Circle the Med 2022

Wed 23 Nov - Sun 27 Nov 2022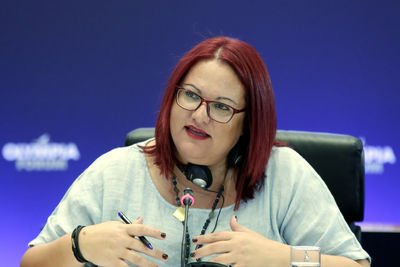 Maria Kamma-Aliferi
Mayor of Tilos
Maria Kamma grew up on the island of Tilos and she is the daughter of Grigoris Kammas, Mayor of Tilos for twelve years. She is married to Ilias Aliferis and has two daughters.
She worked at the Community Livadion of Tilos, then at the Kapodistrian Municipality of Tilos alongside the late Tassos Aliferis and from 2002 at the Municipality of Rhodes in positions of responsibility. In 2011 she was the Head of Fund of the Municipality of Rhodes, the department that united the 10 financial services of the Kapodistrian Municipalities of the island of Rhodes.
In the local elections of 2010, she participated with Tasos Aliferis' party, where she was elected the only female councilor in the Municipality of Tilos.
In March 2012, when the Mayor passed away, she took over the reins of the Municipality of Tilos and has been the Mayor of the island of Tilos ever since.
She is the first female Mayor of the island and the only one serving the institution in the Dodecanese for this four-year period.
She participates in collective bodies in positions of responsibility such as: Vice-President of the Hellenic Network of Small Islands, Secretary of the DAFNI network, member of the S.A.S. of the Ministry of Shipping, member of the Islands & Cohesion Committee of KEDE.
She has a rich cultural, political and social activity.