//

Circle the Med 2022

Wed 23 Nov - Sun 27 Nov 2022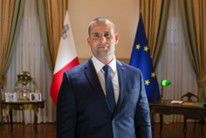 Robert Abela
H.E Prime Minister of Malta
Dr. Robert Abela took office as the 14th Prime Minister of Malta on 13 January 2020.

Dr. Robert Abela was born in Sliema on 7 December 1977. He received his primary education at the Sisters' School and St. Francis School and St. Aloysius' College. He graduated as a lawyer from the University of Malta in 2002.

Dr. Abela worked in the family law firm, specialising in industrial and labour law, and has acted as legal representative of various entities such as the Planning Authority and Airmalta. He was elected as a Member of Parliament in June 2017 and was appointed as legal adviser to the Prime Minister by Dr. Joseph Muscat.

Dr. Abela is married to Lydia, nee' Zerafa, also a lawyer and they have a daughter Giorgia Mae.