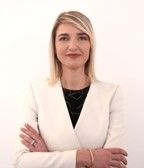 Elva Margariti
Minister of Culture, Albania
Mrs. Elva Margariti was born in Tirana, in 1980. As of January 2019 she is Minister of Culture. Along with her staff she has carried out important projects, at a time when the cultural sector was severely affected by the Earthquake of November 26th, 2019 and the global pandemic of Covid-19.
Earlier, she was entrusted with the task of territory advisor and National Coordinator for the Integrated Rural Development Program (100 Villages Program) by Prime Minister of Albania.
From 2015, for a period of 3 years, Mrs. Margariti was the didactic coordinator for the study program "Master of Science in Architecture" and the study program "Bachelor in Civil Engineering and Environment" at the Catholic University "Lady of Good Counsel", which works closely with the University of Florence.
From 2009 she collaborated with design studios and assisted the implementing firm in Florence, on lighting projects and revitalization of built environment and facilities. Experiences in this field culminated with the exhibition "Lo stile dello Zar" (2009) at the Museo del Tessuto in Prato, Italy and the permanent exhibition at the Museo di Storia della Scienza "Galileo Galilei" in Florence (2010).
After the approval of the examination commission in the Italian state exam for practicing the profession, Mrs. Margarita was licensed under the Order of the Architect in Florence (2008). She has a relatively long experience as a freelance professional in various fields of architecture and urban development planning, and as a collaborator of several design studios in both Italy and Albania.
In 2008, Mrs. Margariti finished her undergraduate studies (Master of Science) in Architecture at the University of Florence, Italy, in the field of design, requalification and revitalization of built environment and bioarchitecture.
In the academic year 2004-2005, she enriched her experiences in field of design, according to the principles of bioarchitecture at Tampere University of Technology and in 2006, in the field of revitalizing cultural heritage through the preservation of traditional techniques, at Tongji University of Technology in Shanghai.
In the same year, she joined the team for the design and organization of the exhibition "Cultural Heritage Preservation Rehabilitation and Reuse. The Tuscan Tradition" at the Urban Planning Exhibition Hall in Shanghai.