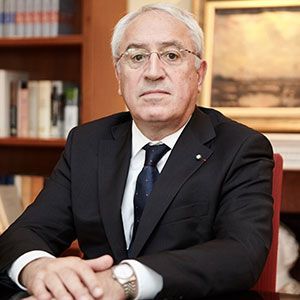 Prof. Spyridon Flogaitis
Director European Public Law Organization of the EPLO and President of its Board of Directors
He is Professor of Administrative Law at the Law School of the University of Athens, Attorney at Law at the High Court and the Council of State of Greece, former President of the United Nations Administrative Tribunal and former Caretaker Alternate Minister for Foreign Affairs (2015) and Former Caretaker Minister of Interior, Greece (in 2007 and 2009). He is also an Honorary Fellow at Wolfson College of the University of Cambridge and Doctor Honoris Causa at the NSPSPA in Bucharest, Romania, the Faculty of Law of the University of Lisbon in Portugal, at the Titu Majorescu Univeristy in Bucharest, Romania, the State University of Mariupol in Ukraine, and the USPEE in Chisinau, Moldavia. He is Vice-President at the Appeals Board of the European Space Agency, Member of the Appeals Board of EUMETSAT, and Member of the Appeals Board of the European Centre for Medium-Range Weather Forecasts. He is Judge at the Administrative Tribunal of EBRD and holds the Chair of the Joint of the Appeals Board at IFAD in the UN. He is former Vice-President of the Organization of Intellectual Property, former Judge at the Supreme Court of Greece, former Arthur Goodhart Professor at the Faculty of Law, Cambridge University, and former Yorke Distinguished Visiting Fellow at the Faculty of Law in Cambridge University.
He was born in Lefkas (Greece) and graduated summa cum laude from the University of Athens with a degree in Law. He holds a PhD in Law from the University of Paris II Panthéon-Assas and a PhD in History from the University of Paris I Panthéon-Sorbonne and a degree (Diplôme) of the École Pratique des Hautes Etudes-IVème Section, Histoire et Philologie.
He was awarded with the distinction of Chevalier de la Légion d'Honneur of the French Republic, the distinction of Cavaliere dell'Ordine di Merito of the Italian Republic, the La Croix d'Officier de l'Ordre du Merite de Hongrie and was honored as Grande-Oficial da Ordem do Infante D. Henrique from the Portuguese Republic.