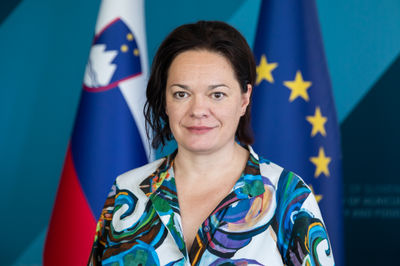 Tatjana Buzeti
State Secretary for Agriculture, Food and Fisheries, Slovenia
Tatjana Buzeti was born on 22 March 1973. She is a graduate of the Biotechnical Faculty in Ljubljana and later specialised in international management in her MBA programme in Budapest.
After completing her studies, she gained work experience as a project assistant at Radenska and later joined the Institute of Public Health in Murska Sobota as an advisor to the Director for Strategic Development, where she carried out research work on projects to promote health and reduce inequalities.
In 2005, she became Director of the Centre for Health and Development in Murska Sobota, and in 2010 she joined the Public Health Directorate at the Ministry of Health. She was later appointed Director-General of the Long-Term Care Directorate at the Ministry and, since 2018, has been working as a policy expert for the World Health Organization in Venice. In addition to having extensive experience in both the private and public sectors, Tatjana Buzeti is the owner of an organic farm in Goričko, where she grows herbs and raises sheep and goats.