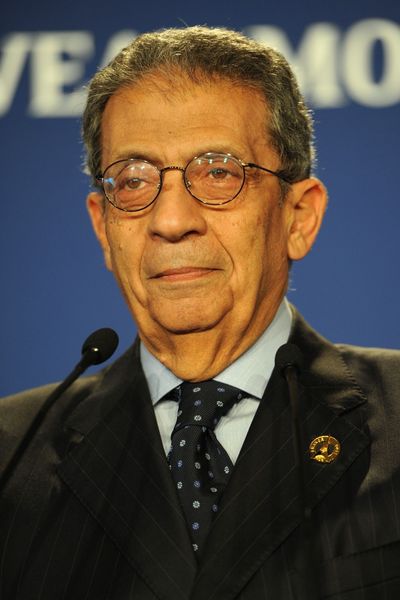 Amr Moussa
Secretary General of the Arab League
Amr Moussa is an Egyptian politician and diplomat who was the Secretary-General of the Arab League, a 22-member forum representing Arab states, from 1 June 2001 to 1 June 2011. Previously he served in the government of Egypt as Minister of Foreign Affairs from 1991 to 2001. On 8 September 2013, he was elected president of the committee of 50 that will amend the Egyptian constitution. 
Moussa began his diplomatic career between 1958 and 1972 he worked in several missions, including Egypt's Embassy in Switzerland and the Egyptian mission to the United Nations. From 1974 to 1977 he was an advisor to the Minister of Foreign Affairs. From 1977 to 1981 and again from 1983 to 1990, he was the Director of the Department of International Organizations at the Ministry of Foreign Affairs. From 1981 to 1983, Moussa was the Deputy Permanent Representative to the United Nations in New York, then from 1983 to 1986 Ambassador to India. In 1990, he was promoted Permanent Representative of Egypt to the United Nations. He was named Minister of Foreign Affairs by Prime Minister Atef Sedki on 20 May 1991. He was minister until 15 May 2001 when he was elected as Secretary-General of the Arab League.
Moussa has been heavily involved with Egypt's foreign policy since 1958. He was Egypt's ambassador to the United Nations, India, and Switzerland for a total of 21 years. Moussa was among the many Arab and international diplomats who tried to resolve the Lebanese Civil War (1975–1990). After serving as Egypt's Foreign Minister from 1991 to 2001, he served as the Secretary General of the Arab League. Moussa has been an extremely popular political figure in Egypt due to his criticism of Israeli policies towards Gaza and the West Bank. At the Forum for New Diplomacy in February 2010, Moussa gave a speech in which he criticized the U.S. government's double standard supporting Israel's nuclear weapons policy but not allowing Iran to pursue nuclear energy. He also criticized Western countries, including the U.S., for not recognizing the results of the 2006 Palestinian election that brought Hamas into power. Like Mohamed El-Baradei and the Muslim Brotherhood, he supports opening the Gaza Strip/Egypt border. His criticisms have made Moussa extremely popular.
On 15 May 2001, Moussa was selected as Secretary-General of the League of Arab States and took office on 1 June 2001. Critics of former-President Hosni Mubarak allege that Moussa's appointment to the office of Secretary-General of the Arab League was motivated by Mubarak's desire to remove him from the public spotlight, and so he would not compete as a candidate in the 2005 presidential elections.
On 2003, he became a member of the United Nations High Level Panel on Threats, Challenges and Change for International Peace and Security.
On 2009, he signed a memorandum of understanding with the Holy See and met with Pope Benedict XVI in order to strengthen joint projects and to promote peace and dialogue on a cultural and political level.
On 13 June 2010, Moussa visited Gaza in a move to pressure Israel to lift its economic blockade over Hamas-ruled Gaza. The visit by Moussa was the first by an official of the Arab League since the election of Hamas in 2007. Immediately after the Gaza flotilla raid, Moussa said the Arab League would go to the UN Security Council to demand the blockade be lifted. On 15 May 2011, Nabil Elaraby was elected as Secretary-General of the Arab League and succeeded Moussa on 1 July 2011.