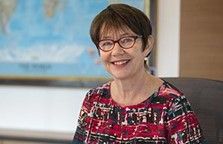 Odile Renaud Basso
President of European Bank of Reconstruction & Development
Odile Renaud-Basso is the President of the European Bank for Reconstruction and Development (EBRD). She is the first ever woman head of a multilateral development bank.
As Director General at the French Treasury, Ms Renaud-Basso oversaw the development of France's economic policies, leading on European and international financial affairs, trade policies, financial regulation and debt management.
In this position, she also served as Vice-President of the European Economic and Financial Committee, deputy to the G7 and G20 groups and French Governor or Alternate Governor of the World Bank, EBRD and African Development Bank. She is also Chair of the Paris Club.
Prior to that role, she was Deputy Director-General of the Caisse des Dépôts, a large French public financial institution.
Ms Renaud-Basso is a graduate of the Paris Institut d'Etudes Politiques (Sciences Po), and an Ecole Nationale d'Administration alumnus. She also attended Harvard University's John F. Kennedy School of Government.