//

Circle the Med 2022

Wed 23 Nov - Sun 27 Nov 2022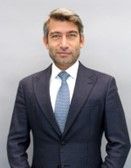 Walid Fayad
Minister for Energy and Water, Lebanon
Dr. Walid Fayad was nominated Minister of Energy and Water in Lebanon in 2021.

Prior to his nomination, Walid served as Managing Director for the Middle East and North Africa (MENA) and Senior Vice President at Partners in Performance, a results oriented operations and management consulting firm, after having served as Executive Vice President at Booz Allen Hamilton, where he co-founded the firm's MENA business. At Booz Allen, Walid led the MENA energy, environment, infrastructure, and operations practices, while also heading the firm's people agenda in the region.

Walid brings over 20 years' experience in management consulting, with McKinsey and Company, Booz and Company, Booz Allen Hamilton, and Partners in Performance, having led an abundant number of diverse strategy and transformation projects across industries, including energy and environment, the public sector, telecommunications, and family-owned conglomerates. He serves as Vice Chairman of the MIT Enterprise Forum Pan Arab and sits on a number of other advisory boards.